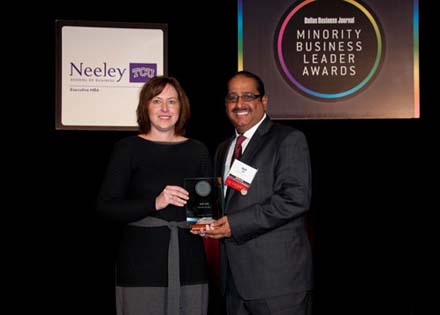 WorldLink, Inc. Founder Adil Adi Honored at the DBJ Minority Business Leader Awards
Frisco, TX, February 16, 2012 – The Dallas Business Journal and the Neely Executive MBA Program at TCU recognized 28 top executives at the 2012 Minority Business Leader Awards. More than 300 people attended the awards luncheon at the Hyatt Regency Dallas on February 16th.
Amongst the honorees was WorldLink founder and CEO, Adil Adi. Under his leadership, WorldLink, Inc., a telecommunications and staffing organization, has achieved phenomenal success in terms of profitability and revenue generation. Since its inception in 1998 WorldLink has grown to over 600 employees worldwide and over 50 million in revenue. Adil is also the Founder of TiE Dallas.
"Living the American dream is to have ownership in a business, and that was the fire in my heart," Adi says. "An opportunity presented itself. It was a very bold and a very risky move, and I would do it again."
The Minority Business Leader Awards celebrated its fifth year with a ceremony that featured the stories and backgrounds of 28 unique business men and women. From Healthcare and Education to Technology, numerous industries were showcased along with the leaders that drive them. Honorees like Adil shared their childhood memories and business challenges that shaped them into the leaders they are today. Honorees were nominated by chamber of commerce representatives across the Metroplex then selected by members of the Dallas Business Journal Minority Business Leader committee.
WorldLink was currently featured on CBS Dallas for their Hire 100 People in 100 Days initiative. Adil prides himself on giving back to the country that has inspired his success by helping to put Americans back to work. He is proud to announce the initiative was 100 percent successful. WorldLink is still expanding beyond 100 hires. Visit WorldLink Careers for their current open positions.
About WorldLink Apps
WorldLink Apps, a division of WorldLink, Inc., is a full service mobile application development organization in Frisco, TX. We offer our clients the highest level of consultative and development services for today's Smartphone market. Our in-house development team has extensive experience in iOS, Android, BlackBerry, Windows Mobile, Symbian, and J2ME platform development.